Early-morning exercise
The day on Skopelos starts early. Already at 5:30 I hear my father snorting on his bed next to me. He's doing his morning exercise. Lying on his back, he pretends to be a cyclist.
After this and other exercises I am now awake too. However, I prefer to do my Qi Gong exercises on the balcony. It's going to be a beautiful day.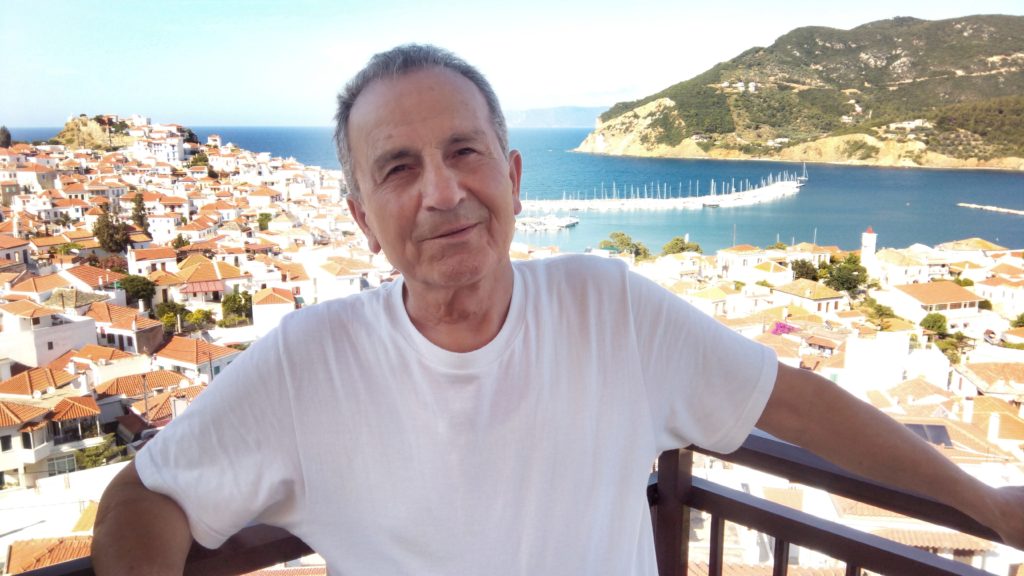 After breakfast we get ready for Stafilos Beach. Maria and Spyros, the operators of our hotel Denise recommended us Stafilos Beach and Limnomari Beach. We wanted to have sheltered bays for swimming, which have hardly any swell.
When preparing for swimming at ´s I notice how nervous my father is. He keeps looking for his three things and forgetting something. He's looking for order, I can tell you that. That's what he needs.
That bothers me a little, because he keeps trying to leave me in charge of his three things.
I don't like it. So I prefer to set limits and make my way to the car quickly. He'll be fine on his own, I guess. I want to enjoy Skopelos completely and I am not bothered with such trivialities.
I take advantage of the waiting time and post a picture on facebook that I vacation on Skopelos.
Stafylos Beach
The drive to Stafylos is short. What we find there inspires us completely. The beach itself and the coastline around Stafylos are beautiful. The water is clear and almost without waves, simply paradisiacal. Here are some impressions of Stafylos.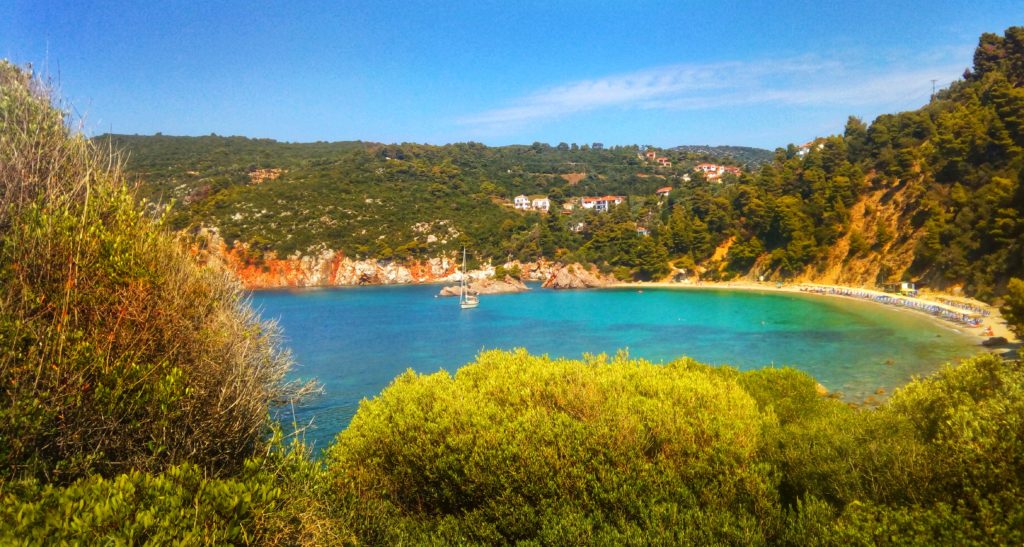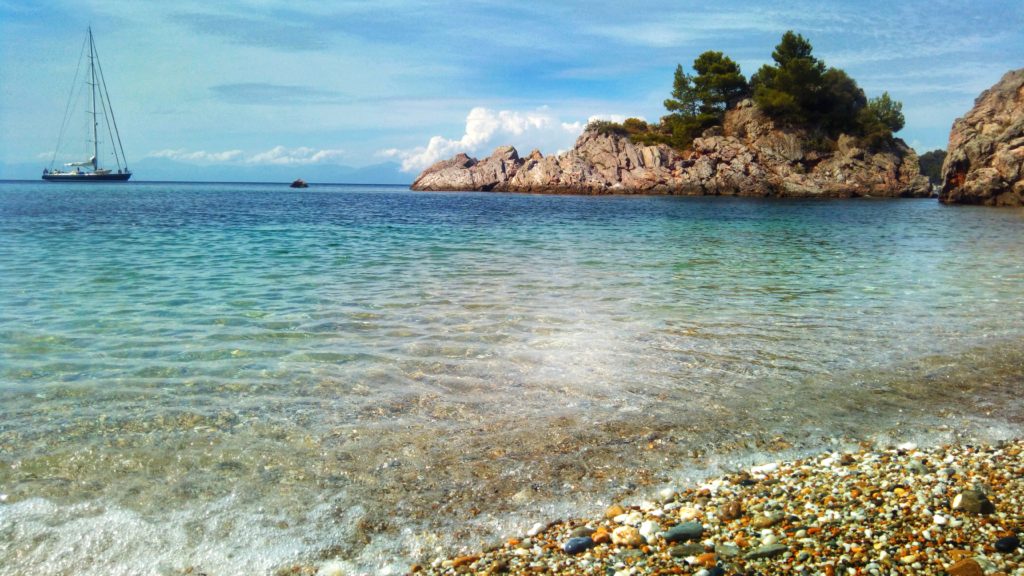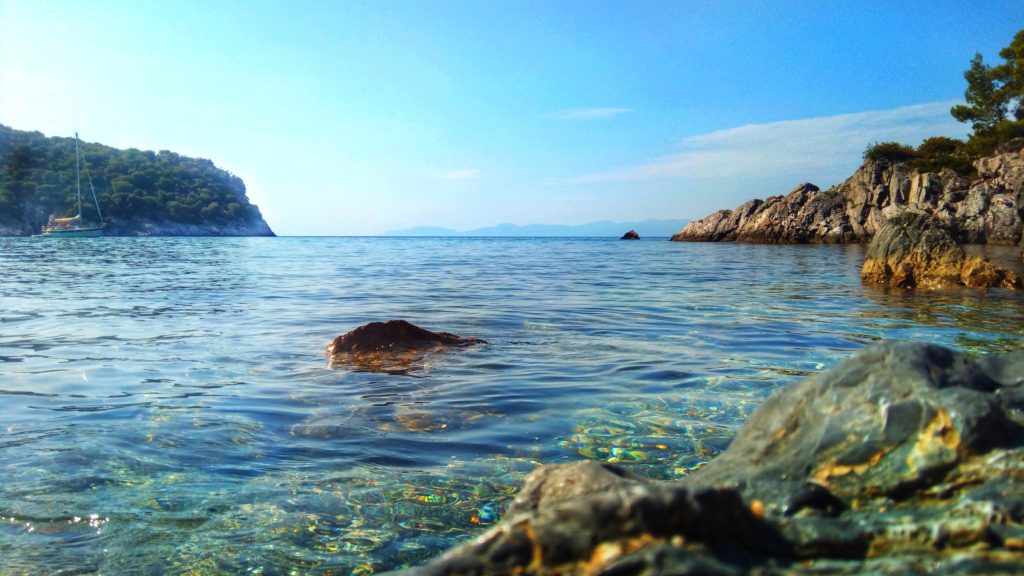 My father turns completely when he swims in the sea. Here is in his element, can let go and enjoy, seems very self-confident to me.
I too feel free and carefree when swimming here, can't get enough. So clearly a place of strength, which is hardly visited in June and August (as I have learned).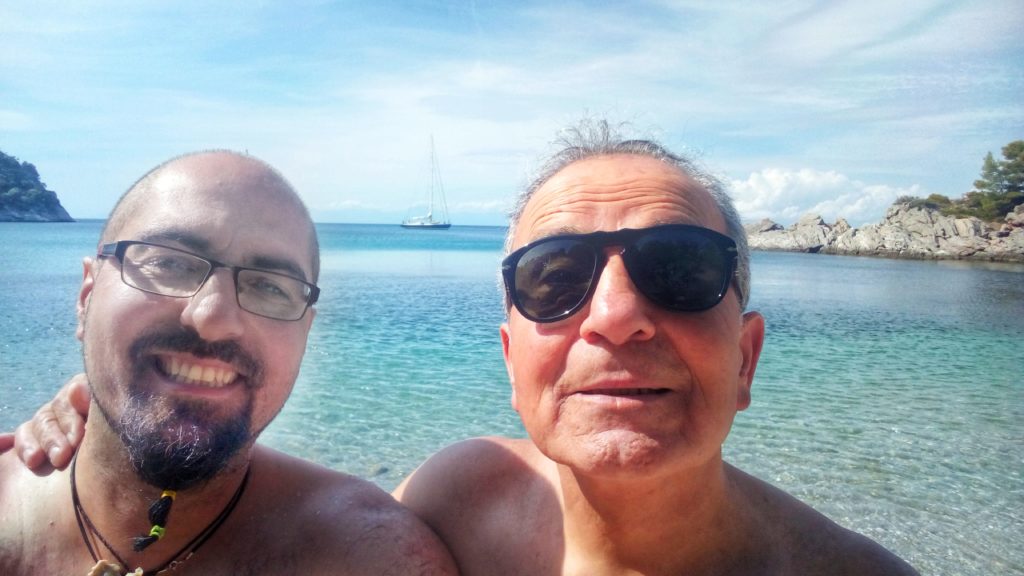 In the footsteps of Mama Mia!
After this fantastic bath in the sea we continue to Agnondas. From there a small stony dirt road goes up to a location of the film Mama Mia!
Three pine trees stand on a rock, directly in front of the sea. Up to 300m before the rock you can drive by car, the rest of the way you walk. But it's worth it. There, too, it is a wonderful experience of nature. Swimming and snorkelling are also possible.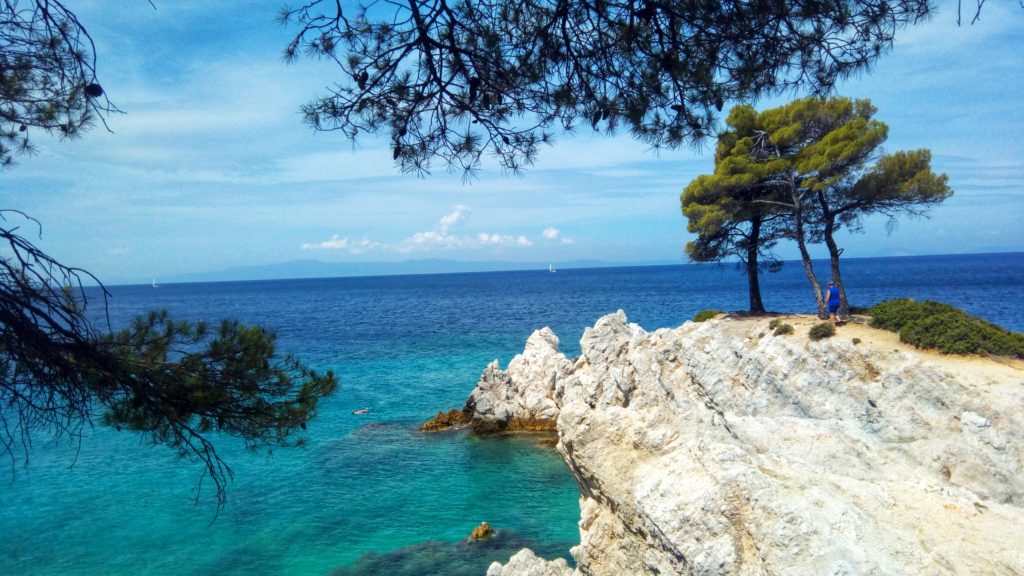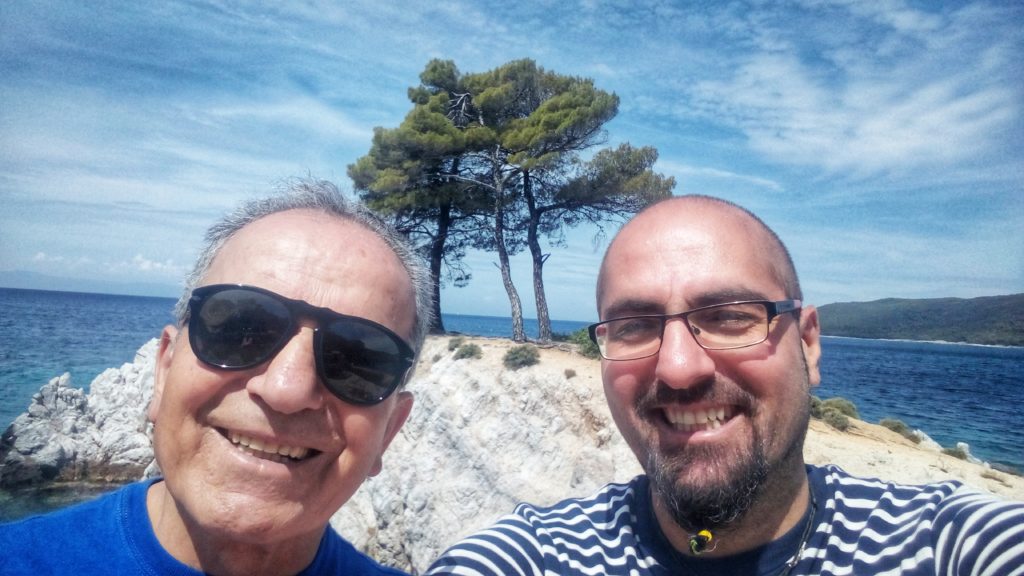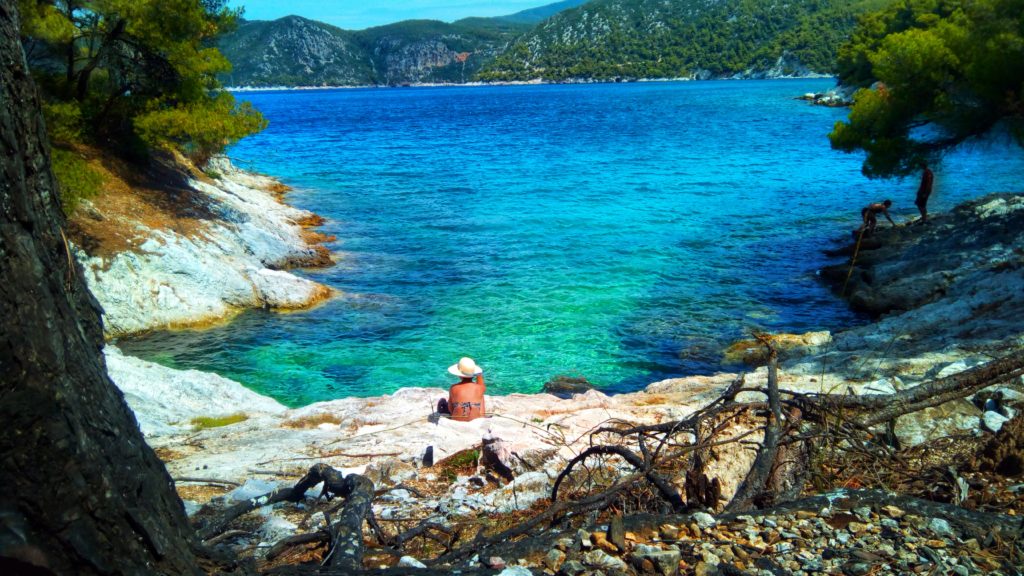 You can stare at the water for hours, read a book and enjoy the waves and the lightness of being.
Limnonari Beach
In the afternoon we drive to Limnonari Beach. The drive here is wonderfully green and full of great views.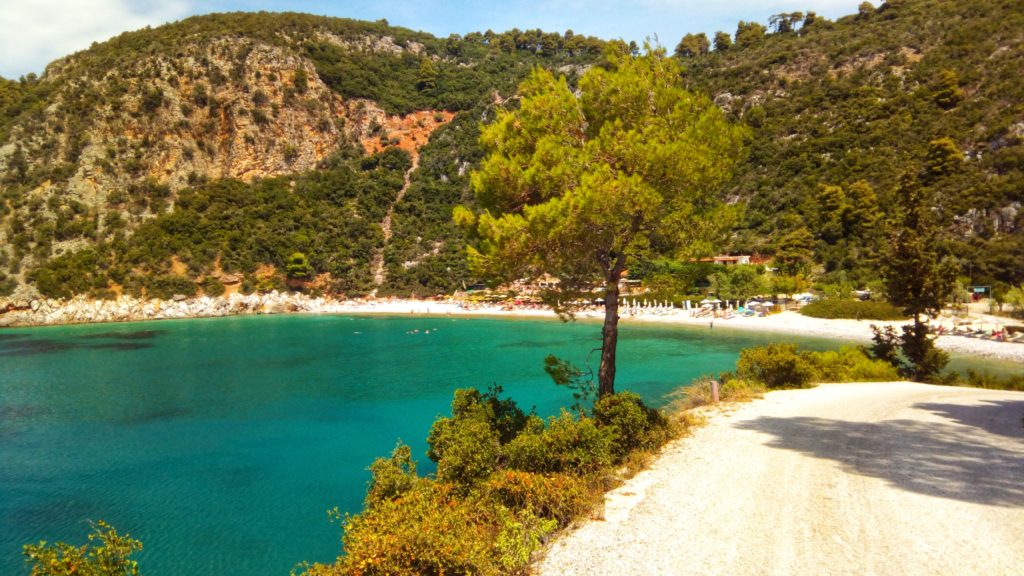 Limnonari itself offers almost waveless water and a beautiful view, but we are both not enthusiastic about the fact that large flat brown-green stone crevices make the entrance into the water slippery and dangerous. But the water is wonderful and there are two beautiful caves at the edge to explore. But I prefer Stafylos.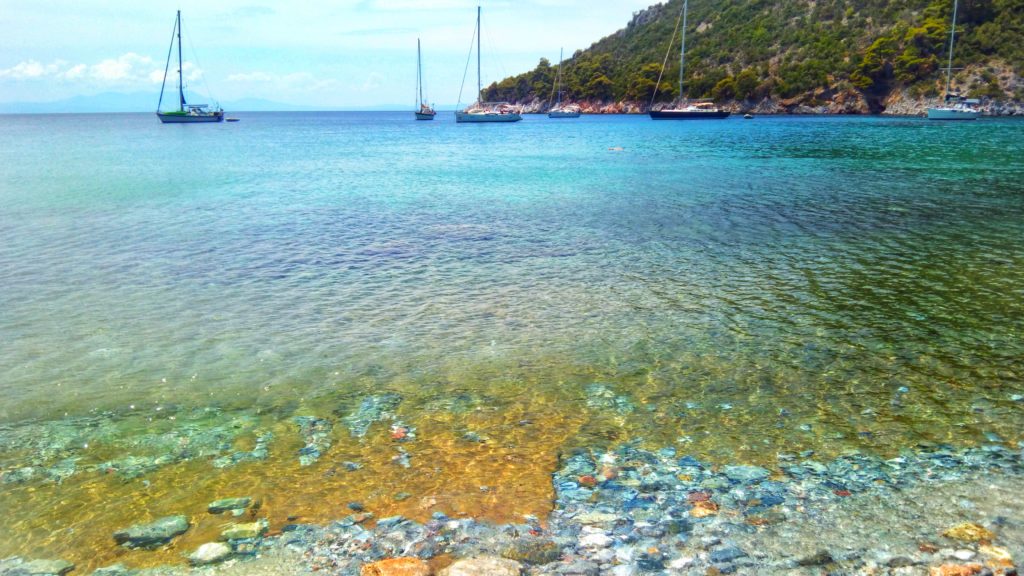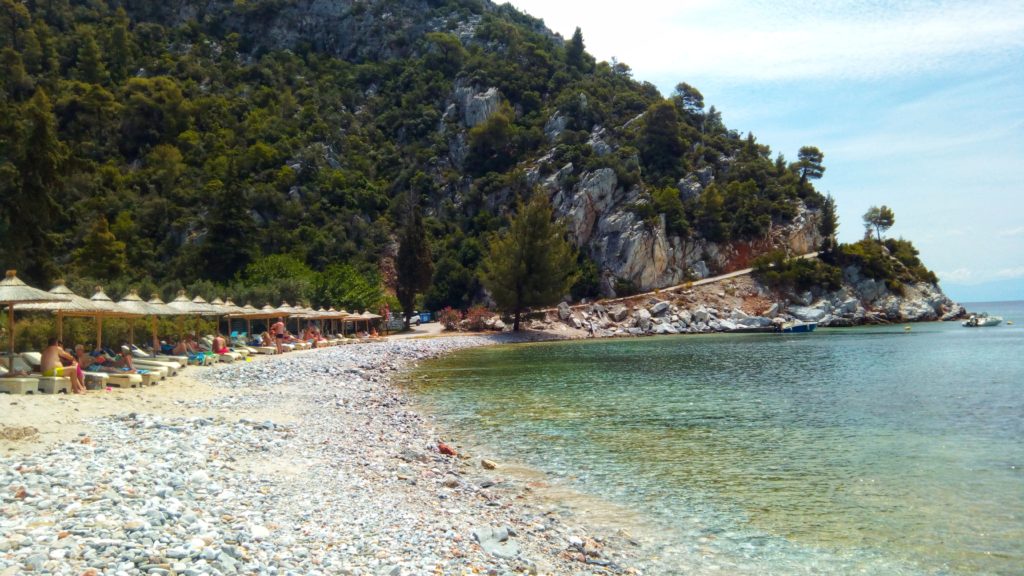 Today there is also a strong wind which has let our glider and my hat fly away several times. Fortunately, local people helped us to collect the things again. But after less than two hours we want to return to Skopelos town.
Here is our route on Skopelos today: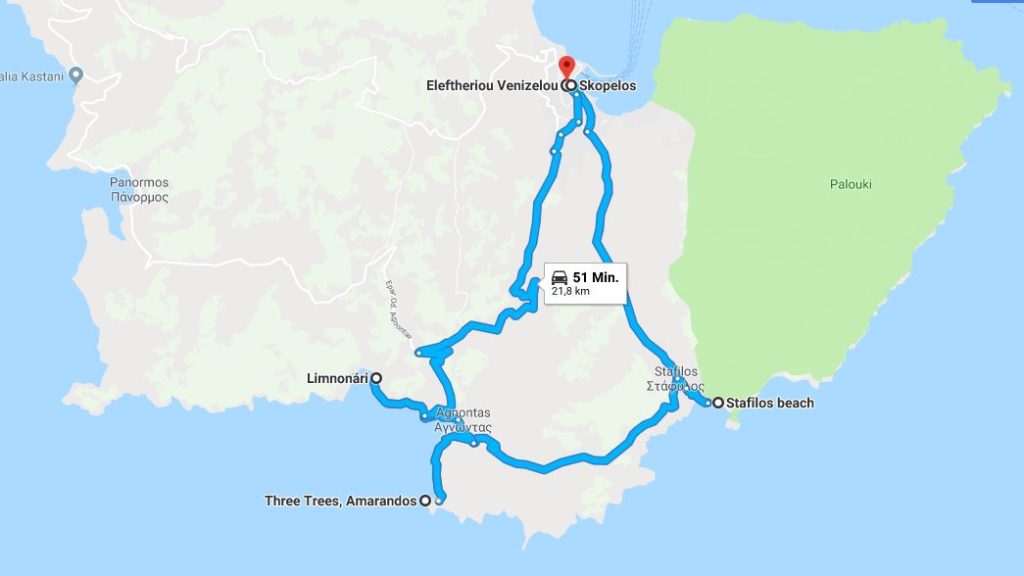 Searching for Jan´s shop in Skopelos town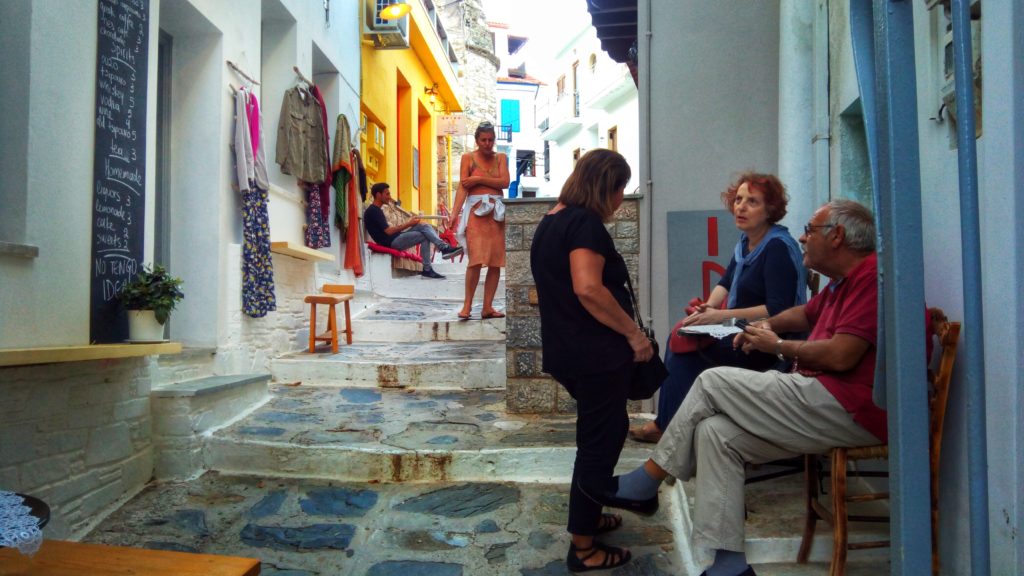 Then an editor I know on facebook comments on my post. He writes me that his uncle lived there for a long time on Skopelos and Ivan Rebrov. I'm supposed to ask for a Jan from Munich in Skopelo's harbour. Interesting story, I imagine.
But I don't even have to walk to the harbour. Ilias, the husband of our hotel manager Maria, already knew Jan, tells me that he had a clothes shop at the harbour and that it had been dead for a long time. I plan to learn more about it at the harbour.
In the evening we go for dinner in the Taverne Aktaion. I can recommend this tavern. The food is good, authentic, the staff strives to be hospitable and the prices are in order. Also here the owner knows Jan from Munich. He had a famous and chic clothing store. Right next door Lutz, who was a photographer, had a photo gallery.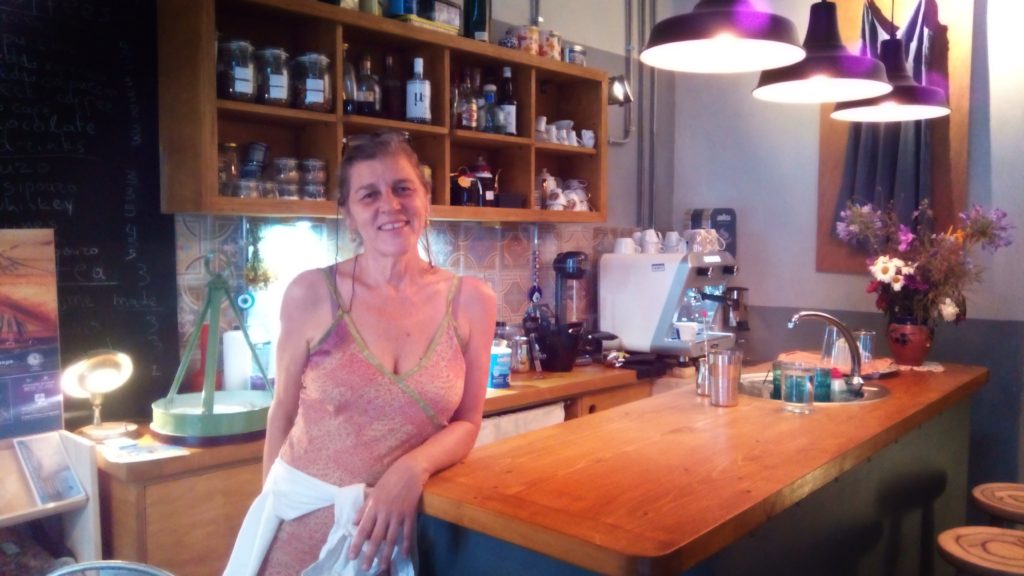 He'll show me where the store is. That's where I'm meeting Rita. She took over Jan and Lutz's shop and merged it into one. One half as a café/bar and the other as a clothing and jewellery shop. She knew Jan and Lutz personally and shows me where Jan also had his house.
I would like to come back tomorrow evening in Rita´s shop and learn more about the two very famous personalities from the island's past.
It's a beautiful night on Skopelos. I think back to today and think back to the moments when time seemed to stand still. A day full of quiet and beautiful moments immersed in the colours of the pine trees and the sea. Skopelos is a place of strength for me.
All text translated fom german with DeepL