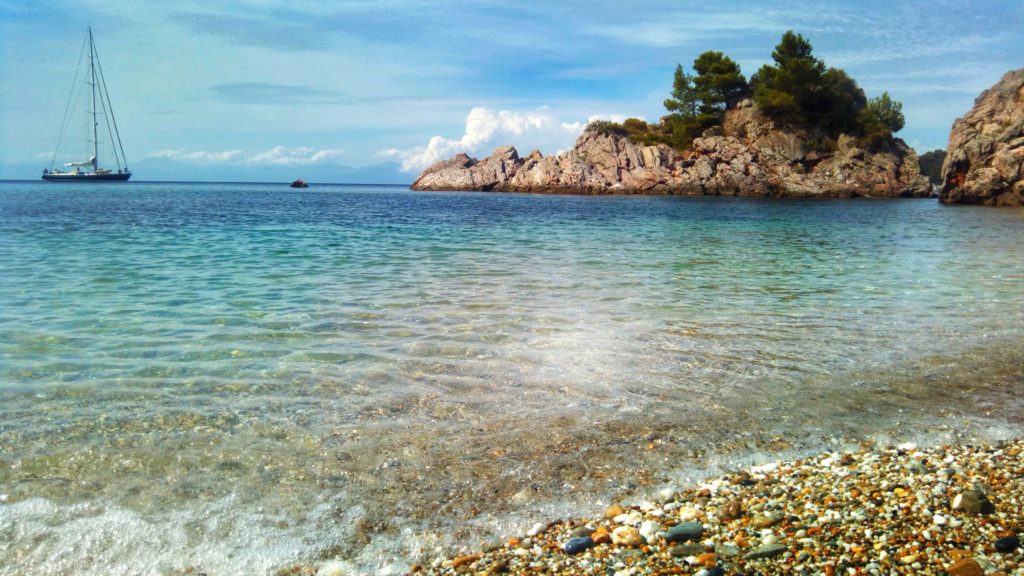 The drive to Volos
The drive from Katerini to Skopelos starts at 6:50 by car. It's grey and windy outside. Looks like a thunderstorm. After a long time back and forth, my father decided to come along. I booked a hotel in Skopelos the day before yesterday. I had a feeling he'd have a hard time making up his mind.
Probably the hotel reservation was the deciding factor. I am happy, because that way I have a car on the island and finally have the opportunity to meet my father. What is he like as a human being and what is in me? So I am curious how it will harmonize with us, so closely together…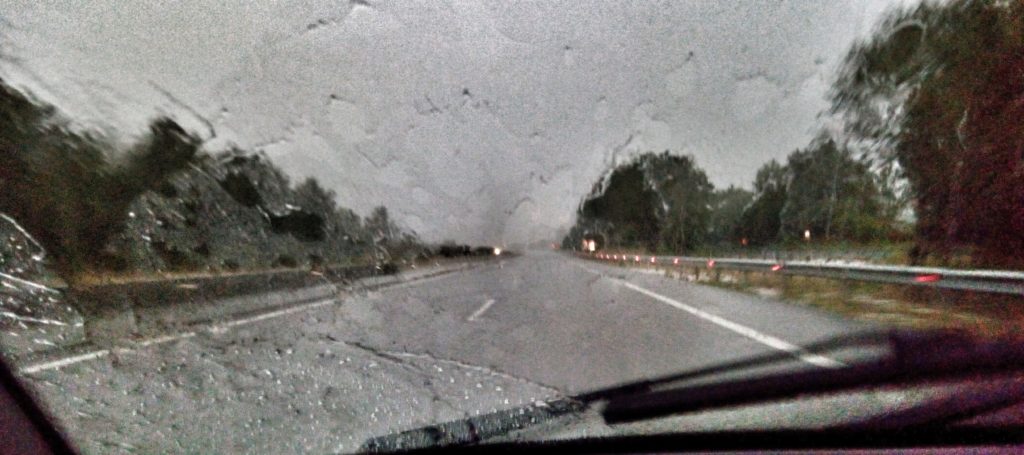 As soon as we start driving, it starts to rain very hard, partly I can hardly see the road lines. Well, that's going well, I guess. To Volos it is about 1,5 h drive and our ferry from Volos harbour to Skopelos leaves about 8:45. I want to get tickets on site.
We still stay calm while driving. Safety is paramount. I made the rules as a driver because my father is often a nervous passenger. So far, however, he remains calm.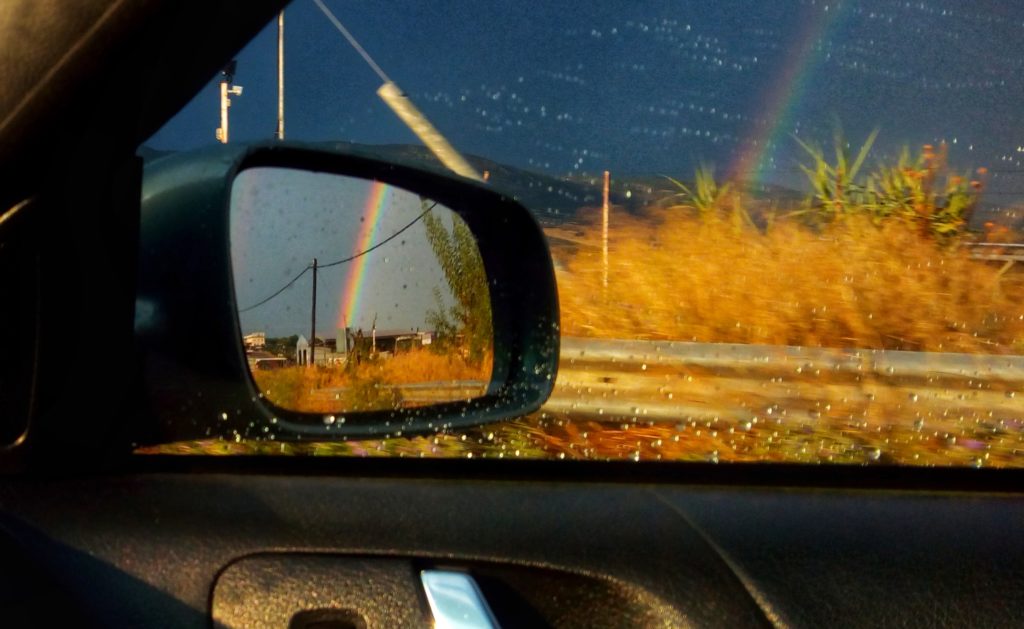 The first hour we drive 80-100 kmh, because it still rains heavily, but so 50 km before Volos finally rain break and a beautiful rainbow. I know it's gonna be a great vacation from now on.
At the harbour of Volos
In Volos itself it is well signposted and easy to find the ferry port. There is now shortly after 8:00 and it is very quiet, hardly any passengers and cars are waiting. So not much is happening on the Sporades Islands (Skiathos, Skopelos, Alonissos) in mid-June, I hope. The calm in the harbour gives me the time to take some impressions of the harbour: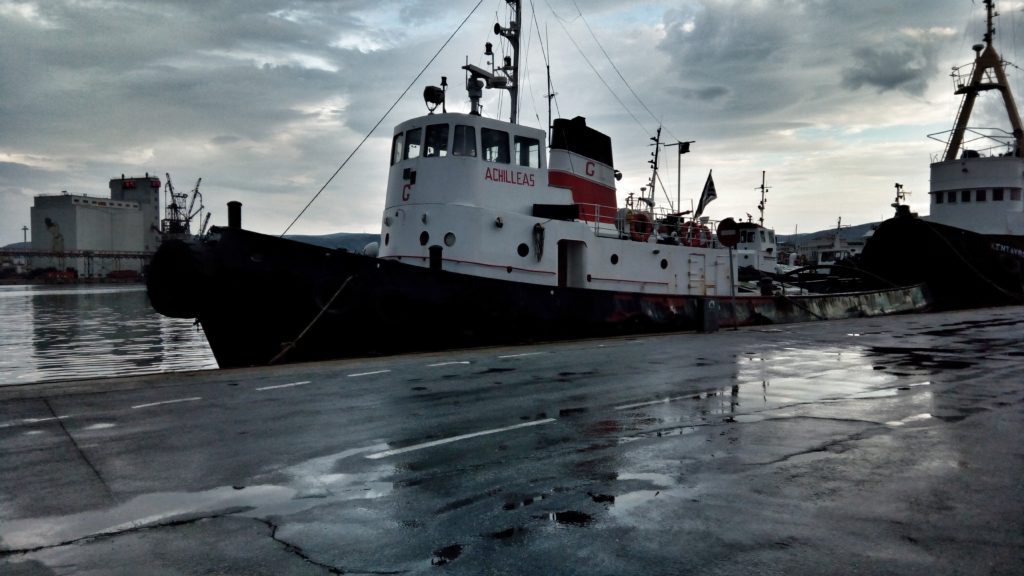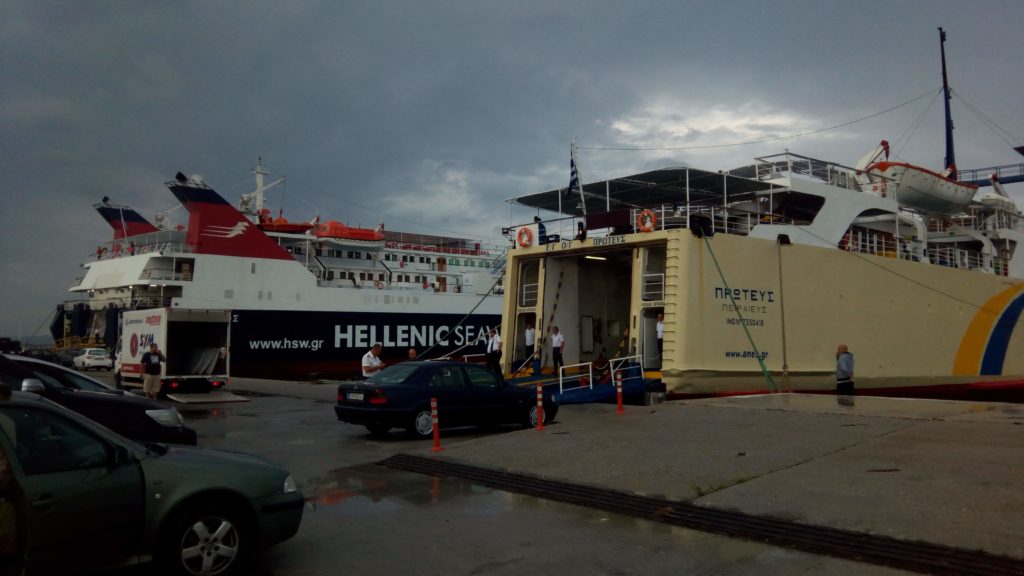 I would also like to use this time quite consciously to feel whether the island Skopelos can be a place, where I can settle down several months in the year and hold my live-free and fulfilled seminars. Are there places of power on this island and the necessary peace and quiet to do so?
I would like to find places where people can better let themselves go. This makes it easier for them to feel and feel and then discover what wonderful treasures they carry with them every day, which they can then use better in everyday life.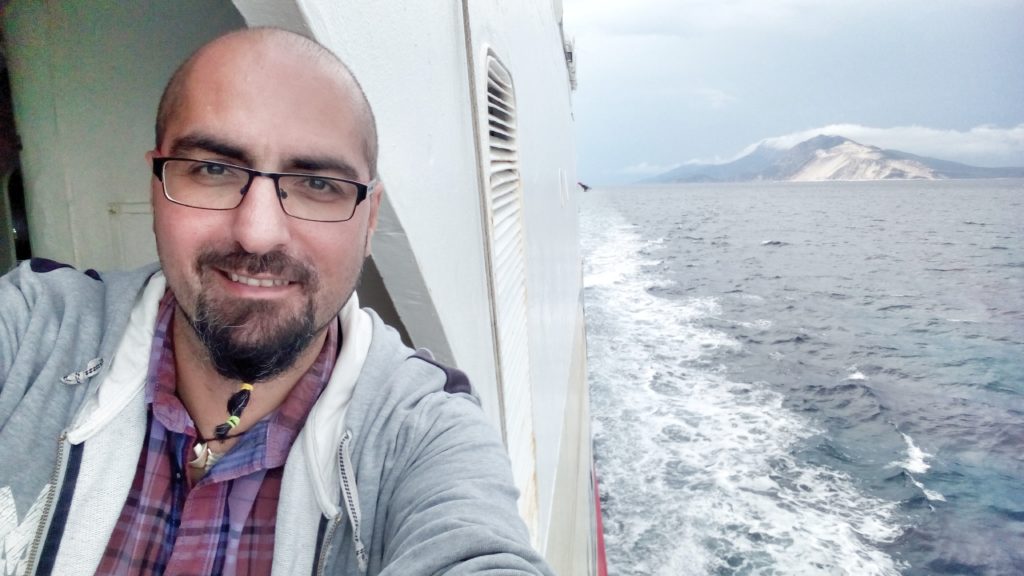 During my intensive research in advance, I had a good feeling at Skopelos. My father wanted to go to Skiathos Island. I had a bad feeling about that. What's the point? Both islands look great on the pictures on the internet. But I'm following my instincts…
The ferry tickets (company Anés) for the outward journey cost 23,70 /person and 60 for the car. The tickets for the other ferry (Hellenic Seaways) cost 30€/person and 85 € for a car. On Skopelos you can rent a car from about 35 €/day. The trip takes about 4.5 hours. The stop after about 3 hours is at the port of Skiathos. Since my father and I didn't sleep much, we're tired.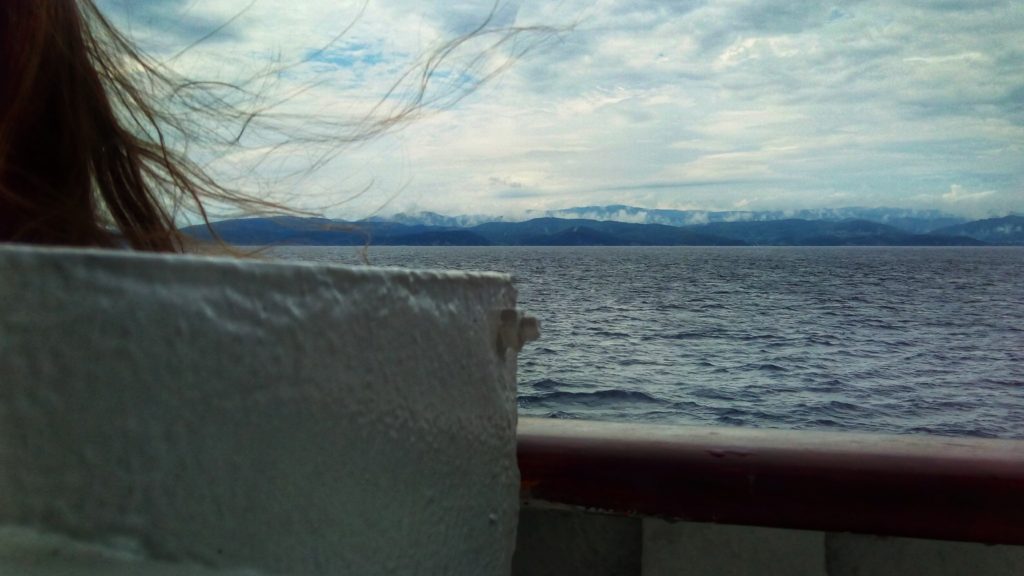 My father's always looking for things he left somewhere. He seems restless and tense to me in between. I realize that I would like to give him a nice holiday and try to accept and let go of this thought, because only he can give this "gift" to himself.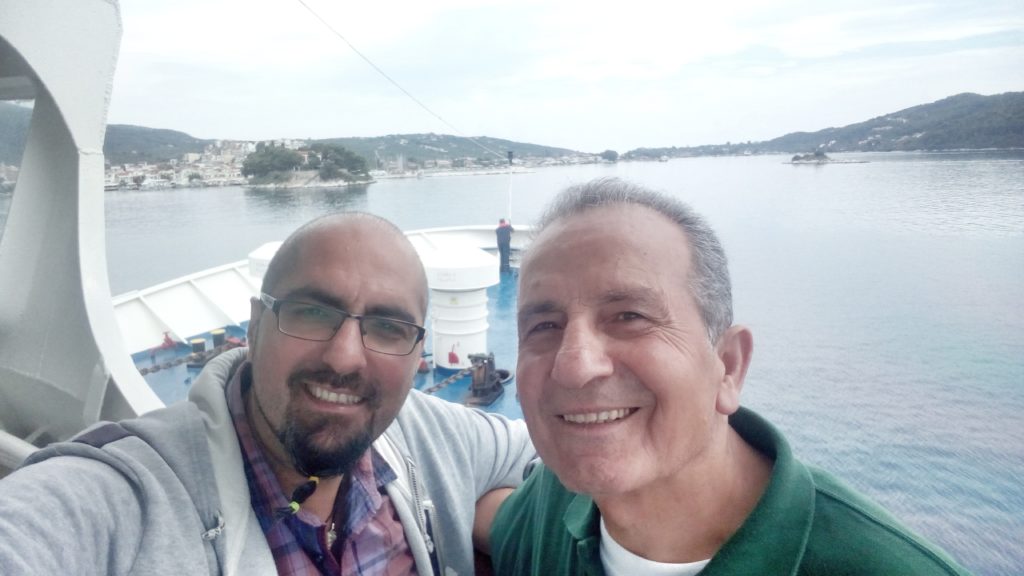 During the stopover at the port of Skiathos, our mood becomes brighter and brighter. We now have the feeling that we are already on holiday and really enjoy the sun and the holiday feeling. My father even just talks to people and talks to them, I enjoy silently and smile inside. How beautiful it is already here!
Thereupon my father only talks about how beautiful Skiathos must be (a woman told him this) and why we don't really want to visit Skiathos but Skopelos. In it I believe to recognize something like "where he is, not the "right" place, but almost always only where he could be, but is not". However, I am sure that I made the right choice, at least for me.
Our first discovery tour on Skopelos
About one hour after the stop on Skiathos we arrive at the port of Glossa called Loutraki. Glossa is located in the north-west of the island of Skopelos. This gives us the opportunity to explore almost all the beautiful beaches one after the other while driving to Skopelos town in the south-east of the island. They all lie along a single coastal road.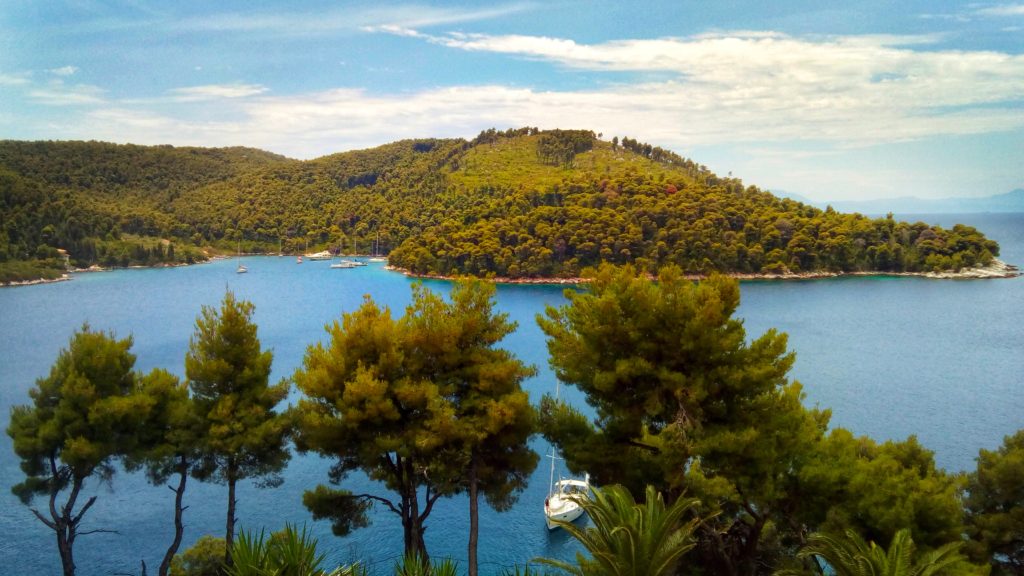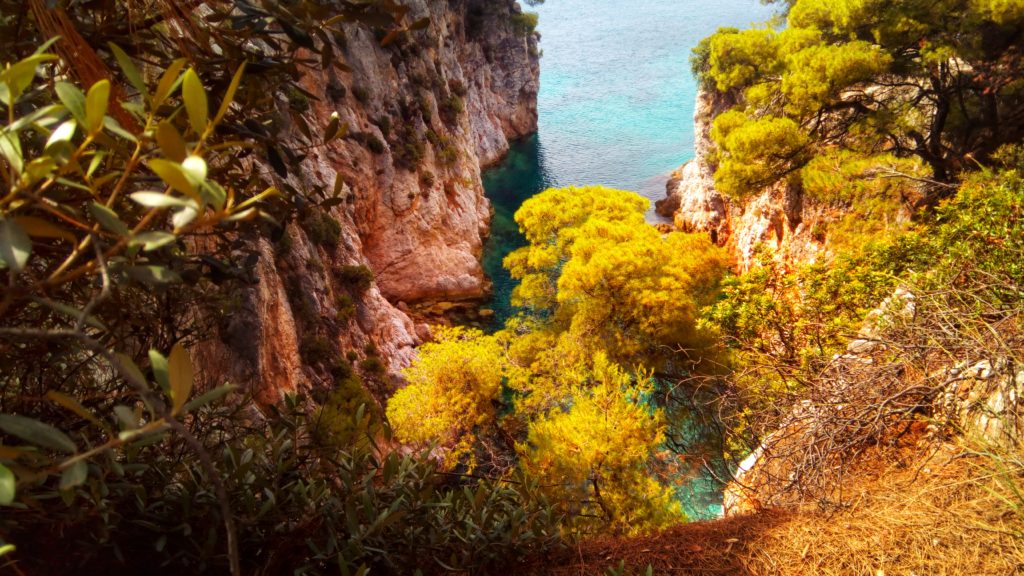 My dad and I both love the forests, the wilderness and the beauty of the island from the very beginning. The green of the mountains and the blue of the sea are simply wonderful. My father can't stop raving. How nice that he can enjoy it after all.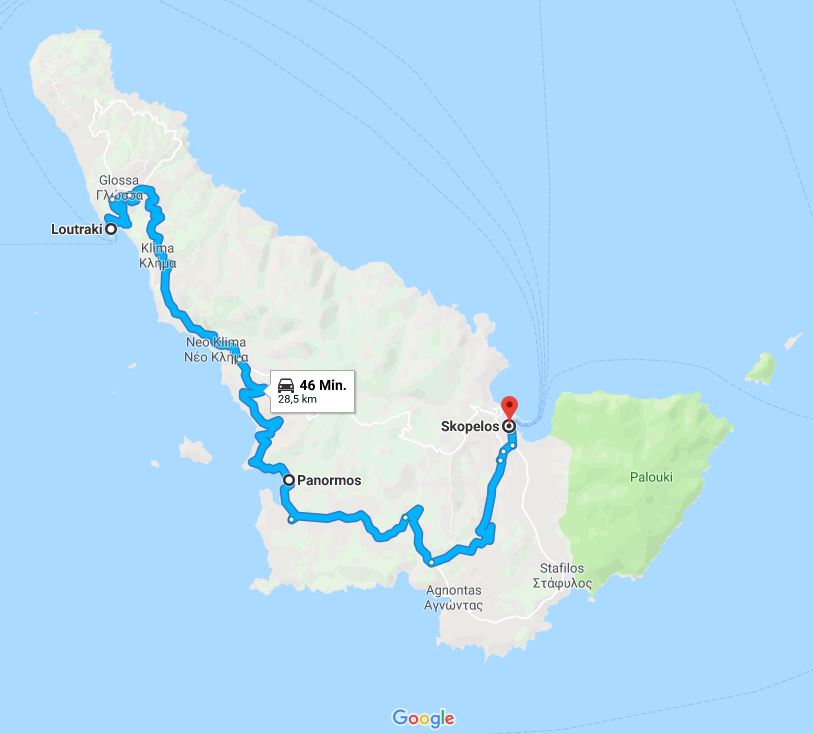 When we arrive at Kastani Beach there is the first dispute between us. He insists that I park as close to the beach as possible, in a place I don't think is suitable and is annoyed that as a driver I decide where I park. Apparently he's tired now, and I think he's letting go of his displeasure. He is in top form but still 80 years old. I stay calm and his anger quickly fades away.
The onward journey is also a great pleasure. Everywhere there are great landscapes in green and blue to admire. In the afternoon we will have dinner in Panormos. I see a great fish tavern right by the sea and would like to go there. But my father would rather eat in a restaurant. For him the name is important, he expects a higher pleasure from it. More appearance than being, I feel here quite clearly and try to persuade him again (unfortunately in vain).
Unfortunately, the mediocre food and the overpriced bill convince him that another choice might have been better. We have very different tendencies in this respect. My father likes to be blinded by big names and labels, status is important to him. I am completely the opposite.
In Skopelos town and our hotel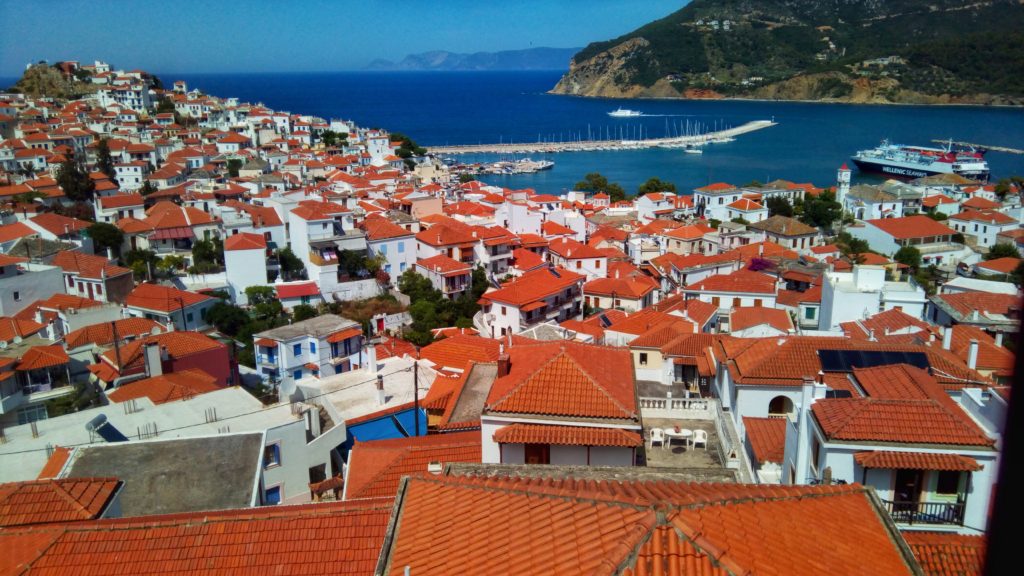 Late in the afternoon we finally arrive at our Hotel Denise. It is probably the hotel with the most beautiful view over Skopelos town and the harbour. The equipment is mediocre, the prices around 30-45 €/night/room in June. The view was the most important to me. When we arrive there we do not get exactly the room I wished for, but a room upstairs.
But I really want to have two single beds and so two chambermaids come into the room to divide the beds that have been put together. However, one of the girls has an accident. She falls so unhappily on her head that she is taken to the hospital.
The manager of the hotel, Spyros, then arranges for us to be transferred to the room below. Right into the room I've been wishing for. Another event that doesn't make me believe in coincidences.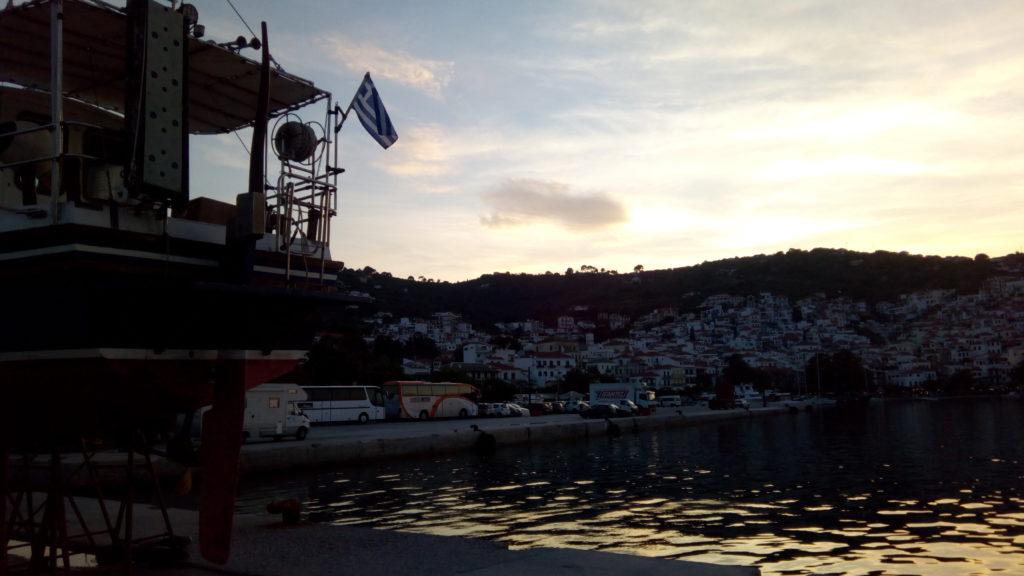 In the evening we walk at the harbour of Skopelos town and let ourselves be infected by the atmosphere and the people. Wonderful. It already feels totally like a holiday and I also think it is very nice that I can do it alone with my father.
Tomorrow we want to go swimming at the most beautiful beach of Skopelos and watch a film location of the movie Mama Mia.
Text translated from german by DeepL